STAR WARS EVOLUTIONS
(Clone Trooper to Stormtrooper)


Source:
(Star Wars)

Year: 2005

Assortment: Evolutions

Retail: $19.99

Assortment Number: 85726/85553

UPC Number: 5356906834

Weapons and Accessories:
Clone Trooper
(The Clone Wars):


Clone Commander Helmet
Clone Pilot Helmet
DC-15 Clone Blaster


Clone Trooper
(The Fall of the Republic):

Star Corps Helmet
Twin Handheld Blasters
Shoulder Pauldron
DC-15 Clone Rifle


Sandtrooper
(The Rebellion):

Orange Officer Pauldron
BlasTech T-21 Light Repeating Blaster Rifle
Comments: The evolution of the galaxy's most powerful army is captured in these figures! The clone troopers fight for the Republic, to try and save the galaxy from chaos. But secret plans change their loyalties, and they help the evil forces of the Sith to take control! No longer known as clone troopers, they are now stormtroopers, the loyal soldiers of the Emperor, enforcing his harsh will throughout the galaxy!







CLONE TROOPER
(The Clone Wars)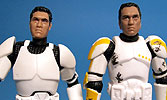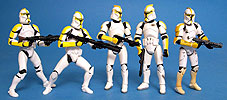 CLONE TROOPER
(The Fall of the Republic)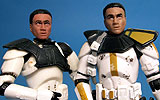 STORMTROOPER
(The Rebellion)
















Points of Interest:
Clone Trooper (The Clone Wars) is a Clone Commander, as signified by the yellow markings. The Clone Engineer helmet is also included. Face is based on the SAGA 2002 Deluxe Clone Trooper.
Clone Trooper (The Fall of the Republic) is a trooper in the Star Corps stationed on the planet Felucia under the command of Commander Bly and General Aayla Secura. Face is based on the ROTS AT-TE Tank Gunner.
Stormtrooper (The Rebellion) is an officer, and he wears the orange-colored pauldron to distinguish rank. More commonly called a Sandtrooper.
A change in the application of the "dirt" on the Sandtrooper has been found. One version has he paint smeared on, the other is sprayed on.
The word "Republic" is misspelled "Rebublic" on the front of the box.
A second version of this set is planned with the troops painted in a gray color scheme.
Photography by Dan Curto

Back To Evolutions