STORMTROOPERS
(Troop Builder Set)


Source: (A New Hope)

Year: 2002

Assortment: (Fan Club Exclusive)

Assortment No. : 32519

Retail: $19.99

Weapons and Accessories:
Comments: Exclusive multi-pack available from the Fan Club. This set will include four individually-bagged figures similar to the previously-released Commtech Stormtrooper, only without the blast damage. Two figures include the rifle from the Commtech figure, and two figures include a POTF2-style blaster.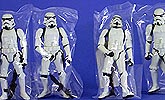 Back To Multipacks