ARC-170 FIGHTER
(Clone Wars Deco)


Source: Expanded Universe:
Clone Wars

Year: 2007

Assortment: Vehicles

Retail: $29.99

Assortment Number: 87375

UPC Number: 6 53569 23263 6

Weapons and Accessories:
Swing-Down Handle
Firing Cannons
Dropping Proton Torpedos
Socket can fit a Droid figure
Opening Wings
2 Missiles
2 Bombs
Comments: The ARC-170 (Aggressive ReConnaisance) fighter blasts into battle! A specially trained clone trooper serves as the pilot for this attack and recon vessel that can carry a crew of clone troopers and has an on-board astromceh droid to handle in-flight operations. The well-armed fighter lives up to its name as an aggressive vehicle against the Separatist forces during the Clone Wars.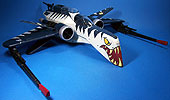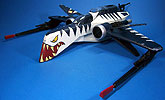 Watch the videos above to see the ARC-170 Fighter
dropping bombs and firing misiles!
Points of Interest:
This ARC-170 Fighter is a repaint of the 2005 ROTS ARC-170 Fighter.
Also look for the ARC-170 Elite Squad battle pack, containing 2 pilots, 2 clones, and an astromech droid. This set is sold separately.
Photography by Dan Curto

Back To Vehicles