The Rebelscum 2001 Holiday Guide to Star Wars Console Gaming
Console: Microsoft X-Box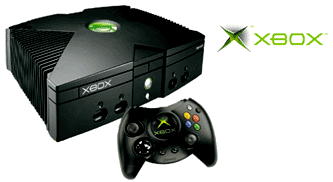 The X-Box marks Microsoft's first foray into the highly competitive waters of console gaming – and they're putting nearly a billion dollars worth of effort into keeping afloat. The system sports an impressive 733Mhz processor, plenty of RAM, a hard drive, and a Ge-Force 3 type graphics chip. The fact that the console is based on PC architecture makes porting PC games over a fairly straight-forward process. This is both a blessing and a curse – despite the fact than countless PC game developers would love to break into the lucrative console market, many PC games just aren't made for a console environment, which could lead to many a flawed title.
Regardless, Microsoft has assembled an impressive list of game developers and while there are currently no real system stand-outs, the initial library of games will be large enough that there will no doubt be something for everyone – and Star Wars fans are certainly no exception.
Being a DVD-based system means the X-Box will also support DVD movie playback. While the console should do well this holiday season among gaming fans, it remains to be seen if the most expensive box on the store shelves will attract the sort of games it will take to be a viable alternative to the PlayStation or GameCube in the long term.
Official Site: www.x-box.com
Launch Date: Currently Available
Cost: $299.00 - click here to buy


Star Wars Games:


Star Wars Starfighter SE
One of the best Star Wars dog-fighting games on any console is arriving in "Special Edition" form on the X-Box. Starfighter is basically a direct port of the excellent PlayStation2 game of the same name. The X-Box version of Starfighter will include a slight graphical enhancement, five new bonus missions and several 2-player upgrades. Perfect for those without a PC or PlayStation, otherwise Star Wars Starfighter is shaping up to be more of the same. Due at around launch time, with a PC version in early 2002.
For additional details on Star Wars Starfighter, visit the official LucasArts website right here.
Launch Date: November 2001
Cost: $49.99 - click here to buy


Star Wars Obi Wan
Originally slated to be released for the PC, Star Wars Obi Wan switched gears and is now (for the foreseeable future) an X-Box exclusive. With a third-person behind-the-back perspective you control young Kenobi as he hacks and slashes his way through more than 15 levels of new and familiar enemies. While this game had a rather disappointing showing at E3 earlier this year (frame rate issues, a demo that was probably too early to be made public), recent reports hint that LucasArts has really picked up the slack. Obi Wan will go a long way towards adding Star Wars fans to the X-Box audience – much needed if the console is going to survive the competition.
For additional details on Star Wars Obi Wan, visit the official LucasArts website right here.
Launch Date: December 2001
Cost: $49.99 - click here to buy


Simply select a system below, or click here to learn about the Sega Dreamcast.