YODA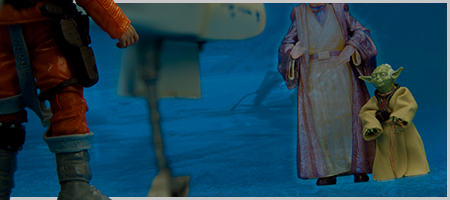 2014 The Black Series
A wise and powerful Jedi Master, Yoda takes on the training of young Luke Skywalker, who comes to the planet Dagobah to learn the ways of the Force.
The #22 Yoda action figure may only feature five points of articulation, but it is hands down the most accurate 3 3/4-inch figure of the diminutive Jedi Master produced so far. This figure, which features a head sculpt that looks just like the puppet used in The empire Strikes Back that was for the first time since the classic Kenner figure from 1980 moulded in the correct colour of plastic, comes packed with a removable soft goods robe, belt, Blissl Flute, Gimer Stick, and Luke sky walker's blue Backpack.
This Yoda figure first shipped along with the repainted #20 Bastila Shan, the much-needed updated #21 Luke Skywalker Dagobah Padawan, the debut #23 Toryn Farr and #24 Snowtrooper Commander, and the improved repaint and correctly spelled #25 Dak Ralter action figures. This assortment was partially revealed at Hasbro's T'was The Night Before... Party in October 2013 and began hitting both virtual and physical shelves in late July, 2014.

Product Information
Manufacturer:
Hasbro
Year:
2014
Original Retail:
$9.99
Assortment Number:
A5632/A5077
UPC Number:
6 53569 89694 4
What's In The Box?
Yoda Action Figure
Soft Goods Robe
Belt
Blissl Flute
Gimer Stick
Soft Goods Backpack
Related Figures:
Text & Photography by D. Martin Myatt
Page built by Adam Lamping
comments powered by

Disqus