SNOWTROOPER COMMANDER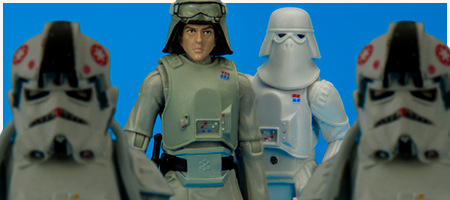 2014 The Black Series
Imperial Snowtrooper Commanders unleash the full force of their weapons and troopers on the Rebel Alliance's base on the ice planet Hoth.
To the casual collector, the #24 Snowtrooper Commander is just another Imperial Stormtrooper in Hoth Battle Gear, but to long-time collectors, this is a debut figure based on a distinctive character from The Empire Strikes Back. The Snowtrooper Commander was the dude standing beside General Veers in the Battle of Hoth. His armor differs from all other Stormtroopers seen in the battle. He had a different mask, no backpack, a commander rank on his chest armor, a pistol sidearm holster on the front right side of his trench coat, and standard issue Stormtrooper forearm armor.
The Snowtrooper Commander figure shipped in the fourth wave of The Black Series 3 3/4-inch collection along with the repainted #20 Bastila Shan, the much-needed updated #21 Luke Skywalker Dagobah Padawan and #22 Yoda Dagobah Jedi Master, the debut #23 Toryn Farr, and the improved repaint and correctly spelled #25 Dak Ralter action figures. This assortment was partially revealed at Hasbro's T'was The Night Before... Party in October 2013 and began hitting both virtual and physical shelves in late July, 2014.

Product Information
Manufacturer:
Hasbro
Year:
2014
Original Retail:
$9.99
Assortment Number:
A5634/A5077
UPC Number:
6 53569 89696 8
What's In The Box?
Stormtrooper Commander Action Figure
BlasTech E-11 Blaster (3 piece articulated version)
BlasTech DL-44 Pistol
Related Figures:
Text & Photography by D. Martin Myatt
Page built by Adam Lamping
comments powered by

Disqus