SENATE GUARD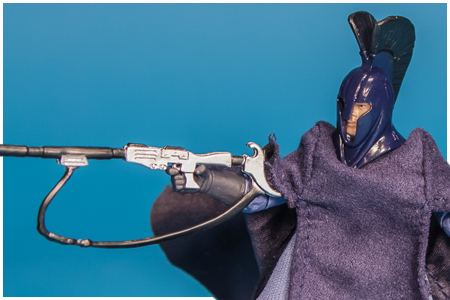 Attack Of The Clones

Product Information
Manufacturer:
Hasbro
Year:
2011
Original Retail:
$7.99
Assortment Number:
24995/97568
Placement Number:
VC36
UPC Number:
6 53569 54603 0
What's In The Box?
Senate Guard Figure
Force Pike
Blaster
Ceremonial Rifle
Removeable Outer Robes
Removeable Inner Robes
About This Figure
The VC36 Senate Guard was based on the 2005 Revenge Of The Sith Royal Guard (Senate Security) action figure. This retooled version featured a new head, ball-hinged elbows, massive newly designed fabric robes and a revised paint design.
U.S. Card Variations
There are two card back variations for the U.S. VC36 Senate Guard. The code below works like this: F = Card Front, B = Card Back, FS = Card Front Sticker, BS = Card Back Sticker, DS = Date Stamp

VC36 F2.1 B2.1 FS (N/A) BS (N/A) DS02941 - close-up photo on front of card
VC36 F2.2 B2.2 FS (N/A) BS (N/A) DS03631 - wide photo on front of card, warnings removed from bottom back side of card
North American Tri-Logo Card Variations
Hasbro only released this figure on one North American Trilogo card back. There are no known variations.
Related Figures
Photography & Text by D. Martin Myatt
Additional Photography by Suzan Lund
U.S. Card Variations Catalogued by Vince Zannelli
Canadian Card Variations Catalogued by Scott McDonald
Page Built by Adam Lamping
comments powered by

Disqus