JANGO FETT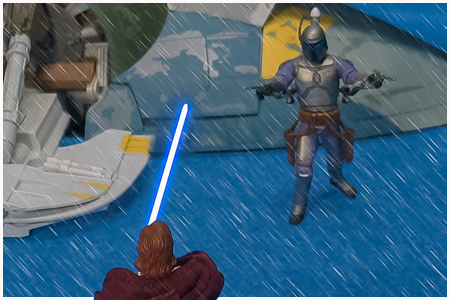 Attack Of The Clones
The VC34 Jango Fett from the fourth wave of figures in
The Vintage Collection
gives collectors virtually everything you could ask for in a Jango figure. The figure itself is a retooling of the Jango Fett figure included in
The Fett Legacy
Star Wars
Evolutions three pack form 2008. This time out Hasbro created new forearms that featured the gauntlet blades seen in the duel with Obi-Wan Kenobi in
Attack Of The Clones
.
The fourth wave of action figures in
The Vintage Collection
focused on the characters and costumes featured in
Star Wars
Episode II:
Attack Of The Clones
. The assortment which also included the all new
VC29 Kit Fisto
, the all new definitive
VC30 Zam Wesell
, the repacked
VC31 Obi-Wan Kenobi
, the much-needed updated
VC32 Anakin Skywalker (Peasant Disguise)
, the debut
VC33 Padmé Amidala (Peasant Disguise)
, the retooled
VC35 Mace Windu
, the kit-bashed
VC36 Senate Guard
and the repainted
VC37 Super Battle Droid
was the first to be released without a special send away offer form or sticker. Of all the figures in this wave, only the VC31 Obi-Wan and VC34 Jango figures were repacked in future assortments, and as such only these two figures can be found with send away offers.

Product Information
Manufacturer:
Hasbro
Year:
2011
Original Retail:
$7.99
Assortment Number:
24993/97568
Placement Number:
VC34
UPC Number:
6 53569 54595 8
What's In The Box?
Jango Fett Figure
Poncho
Z-6 Jetpack
Missile
Helmet
Pilot's Headgear
2x WESTAR-34 Blaster
U.S. Card Variations
There are three card back variations for the U.S. VC314 Jango Fett. The code below works like this: F = Card Front, B = Card Back, FS = Card Front Sticker, BS = Card Back Sticker, DS = Date Stamp

VC34 F1.1 B3.1 FS (N/A) BS (N/A) DS02941 - figures pictured to the left of cardbacks
VC34 F1.1 B3.2 FS (N/A) BS (N/A) DS10631 - warnings removed from the bottom back side of card
VC34 F1.1 B3.3 FS1.1 BS (N/A) DS11851 - Prototype Fett offer, new code on UPC (54553)
North American Tri-Logo Card Variations
Hasbro only released this figure on one North American Trilogo card back. There are no known variations.
Related Figures
Photography & Text by D. Martin Myatt
Additional Photography by Suzan Lund
U.S. Card Variations Catalogued by Vince Zannelli
Canadian Card Variations Catalogued by Scott McDonald
Page Built by Adam Lamping
comments powered by

Disqus