GENERAL GRIEVOUS


Source:
Revenge of the Sith

Year: 2007

Assortment: Saga Legends

Retail: $5.99

Assortment Number: 87421/85770

UPC Number: 6 53569 24847 7

Weapons and Accessories:
4 Lightsabers
Episode III Collector Coin
Species: A Kaleesh from the world of Kalee
Status: Brilliant strategist for the Confederacy
Weapon of Choice: Lightsabers, Blaster pistols
Characteristic: A menacing combination of flesh and metal
Comments: The supreme commander of the droid armies is tracked to Utapau by Obi-Wan Kenobi. A powerful combination of droid and alien, Grievous is a formidable fighter, and ultimately confronts the Jedi in single combat.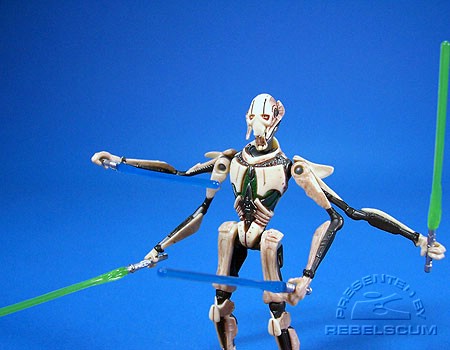 Roll over the photo above to watch General Grievous' "4 Lightsaber Attack"!
Points of Interest:
General Grievous is a repack of 2005's ROTS General Grievous III-09.
Photography by Dan Curto

Back To Saga Legends