Pablo-Jill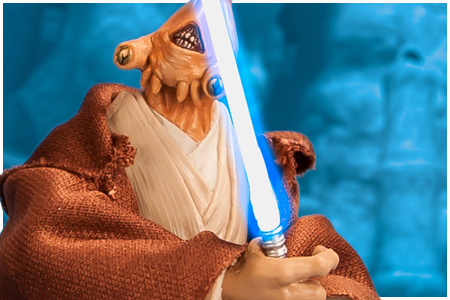 2013 The Black Series
Pablo-Jill is an Ongree Jedi Knight who battles Separatists forces during the Battle of Geonosis.
Based on one of the strangest alien Jedi we've ever seen, The Black Series' #10 Pablo-Jill is a much needed update that sports a fully articulated body and a soft goods robe. This figure is such an incredible update that collectors on the fence over replacing The Original Trilogy Collection 05-01 Pablo-Jill figure they've had since 2005 need to have their heads checked.
The second wave of figures in The Black Series basic collection also included repainted #09 R2-D2, the definitive new #11 Luminara Unduli, the repainted TVC buck #12 41st Elite Corps Clone Trooper, the kit bash #13 Stormtrooper, the completely new #14 Mara Jade figures. This assortment was originally intended to be a part of Hasbro's cancelled 2013 Droid Factory Legacy Collection and most of them were first show in public at Hasbro's 2012 San Diego Comic-Con pavilion and the rest were revealed in the exact same location one year later.

Product Information
Manufacturer:
Hasbro
Year:
2013
Original Retail:
$9.99
Assortment Number:
A5161/A5165
UPC Number:
6 53569 88409 5
What's In The Box?
Pablo-Jill Action Figure
Ignited Lightsaber
Robe
Previous Versions
Text & Photography by D. Martin Myatt
Page Built by Adam Lamping