Mara Jade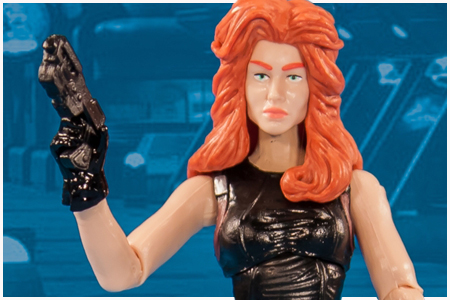 2013 The Black Series
An assassin for Emperor Palpatine, Mara's life changes when she meets - and eventually marries - Luke Skywalker.
Whether or not you like the Expanded Universe, you have to admire a great action figure sculpt. At the same time you can't look past a poorly executed paint design. The Black Series #14 Mara Jade is six of one and half a dozen of the other. When this figure was first displayed in public at the 2013 San Diego Comic-Con, Hasbro had a winner on its hands. When the factory packaged up their best effort of what could have been the definitive version of this character, all hopes were dashed.
The second wave of figures in The Black Series basic collection also included repainted #09 R2-D2, the completely new, fully articulated #10 Pablo-Jill, the definitive new #11 Luminara Unduli, the repainted TVC buck #12 41st Elite Corps Clone Trooper, the kit bash #13 Stormtrooper figures. This assortment was originally intended to be a part of Hasbro's cancelled 2013 Droid Factory Legacy Collection and most of them were first show in public at Hasbro's 2012 San Diego Comic-Con pavilion and the rest were revealed in the exact same location one year later.
Though some may consider it a variation, this Mara Jade action figure shipped with what appears to be two different hair pieces. This is likely more of a factory-related production inconsistancy. THere is however a significant packaging variation on this figure. It was originally released with the small accessories packaged above the Ignited Lightsaber accessory, but was soon changed to have the accessries positioned below the Ignited Lightsaber.

Product Information
Manufacturer:
Hasbro
Year:
2013
Original Retail:
$9.99
Assortment Number:
A5165/A5077
UPC Number:
6 53569 88417 0
What's In The Box?
Mara Jade Action Figure
Ignited Lightsaber
Lightsaber Hilt
Holdout Blaster
Holster
Previous Versions
Text & Photography by D. Martin Myatt
Page Built by Adam Lamping