Luminara Unduli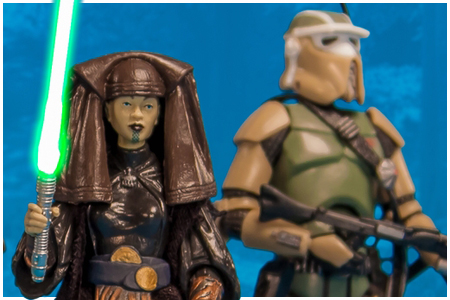 2013 The Black Series
Luminara is a Jedi Master who commands the 41st Elite Corps as a Jedi General during the Clone Wars.
The #11 Luminara Unduli is the perfect example of how to create a definitive version of a background character. This completely new figure features a fully articulated body, a removable headdress, and soft goods skirt and robes! Hasbro will be hard pressed to improve on this one!
The second wave of figures in The Black Series basic collection also included repainted #09 R2-D2, the completely new, fully articulated #10 Pablo-Jill, the repainted TVC buck #12 41st Elite Corps Clone Trooper, the kit bash #13 Stormtrooper, the completely new #14 Mara Jade figures. This assortment was originally intended to be a part of Hasbro's cancelled 2013 Droid Factory Legacy Collection and most of them were first show in public at Hasbro's 2012 San Diego Comic-Con pavilion and the rest were revealed in the exact same location one year later.

Product Information
Manufacturer:
Hasbro
Year:
2013
Original Retail:
$9.99
Assortment Number:
A5249/A5077
UPC Number:
6 53569 88638 9
What's In The Box?
Luminara Unduli Action Figure
Ignited Lightsaber
Cloak
Skirt
Headdress
Previous Versions
Text & Photography by D. Martin Myatt
Page Built by Adam Lamping