Stormtrooper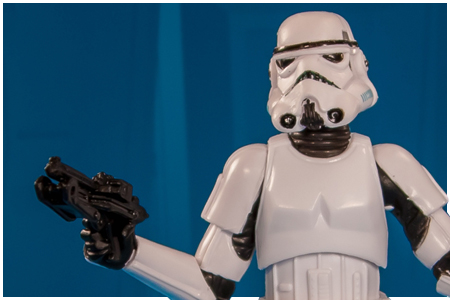 2013 The Black Series
These elite soldiers enforce the Emperor's will across the Galactic Empire.
What do you get when you take the belt last used on The Vintage Collection's 2011 VC41 Stormtrooper and put it on the figure last seen as the The Vintage Collection's 2012 VC112 Sandtrooper? A stormtrooper that doesn't quite live up to our expectations. While it is always great to see Stormtroopers on store shelves, this release left many collectors wanting.
The second wave of figures in The Black Series basic collection also included repainted #09 R2-D2, the completely new, fully articulated #10 Pablo-Jill, the definitive new #11 Luminara Unduli, the repainted TVC buck #12 41st Elite Corps Clone Trooper, the completely new #14 Mara Jade figures. This assortment was originally intended to be a part of Hasbro's cancelled 2013 Droid Factory Legacy Collection and most of them were first show in public at Hasbro's 2012 San Diego Comic-Con pavilion and the rest were revealed in the exact same location one year later.

Product Information
Manufacturer:
Hasbro
Year:
2013
Original Retail:
$9.99
Assortment Number:
A5083/A5077
UPC Number:
6 53569 88416 3
What's In The Box?
Stormtrooper Action Figure
BlasTech DLT-19 Rifle
BlasTech E-11 Blaster (articulated)
Previous Versions
Text & Photography by D. Martin Myatt
Page Built by Adam Lamping