OBI-WAN KENOBI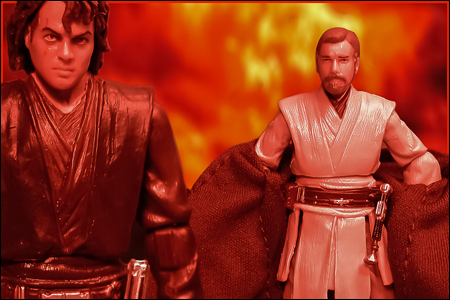 Revenge of the Sith
Even though the action figure itself is a straight up repack of the 2006
The Saga Collection
Obi-Wan Kenobi
,
The Vintage Collection
wave two figure is worth owning just for the card back itself. This assortment marks the first time a character (or more correctly in some cases, a character's costume) from outside the
Original Trilogy
was packaged on a black and silver Classic Kenner card.
The second wave of
The Vintage Collection
was revealed at the
2010 San Diego Comic-Con
. With the exception of a single
Star Wars
(
A New Hope
) figure that we've always wanted on a Kenner card, this assortment mainly focused on the characters from
Revenge Of The Sith
, marking the first time anything other than the
Original Trilogy
was represented on a Kenner Vintage card. The Assortment included
Darth Sidious
in his brown robes,
Darth Vader
as he appeared on Mustafar,
Sandtrooper
with a white Sergeant pauldron, the clean Phase II
Clone Trooper
, repacked
Obi-Wan Kenobi
,
General Grievous
with soft goods cloak, the definitive
Magnaguard
and the repainted
Clone Commander Cody
. Wave two began shipping in September 2010.
All eight figures in this wave was available on both regular and foil cards.

Product Information
Manufacturer:
Hasbro
Year:
2010
Original Retail:
$9.99
Assortment Number:
20821/97568
Placement Number:
VC16
UPC Number:
6 53569 51610 1
What's In The Box?
Obi-Wan Kenobi Figure
Ignited Lightsaber
Lightsaber Hilt
Communications Headset
Jedi Robe
U.S. Card Variations
There are no known card back variations for the regular edition U.S. VC16 Obi-Wan Kenobi. The code below works like this: F = Card Front, B = Card Back, FS = Card Front Sticker, BS = Card Back Sticker, DS = Date Stamp

F1.1 B1.1 FS1.1 BS(N/A) DS02631 - "Original figures in packaging from 1970's, 1980's, 1990's, and 2000's illustrated here are not available." text on cardback. Rocket firing Boba Fett mail-away offer sticker.

Released simultaneously, Hasbro produced special foil version for each figure in this wave of The Vintage Collection action figures. As with all the foil cards in the first wave, all of the wave two foil cards were short packed and boasted much smaller print runs. The Foil to Regular production ratio was roughly one to every ten. This short-lived premium chase packaging ended with this assortment.
North American Tri-Logo Card Variations
There were two versions of the regular edition VC16 Obi-Wan Kenobi figure sold in Canada.

The first version had the Boba Fett send away pamphlet in the blister, but the starburst sticker.
The second version had both the Boba Fett send away sticker of pamphlet.
The Boba Fett typo was fixed before this wave shipped, and to date there are no verified examples of the error sticker on any of the wave 2 figures.
All eight figures in the second wave of The Vintage Collectionhad a chase foil card produced and released.
Related Figures
Text & Photography by D. Martin Myatt
Additional Photography by Suzan Lund
US Card Variations Catalogued by Vince Zannelli
Canadian Card Variations Catalogued by Scott McDonald
Page Built by Adam Lamping
comments powered by

Disqus