COMMANDER KELLER & GALACTIC MARINE
(Dark Horse Comics' STAR WARS: REPUBLIC)


Source: Expanded Universe:
Star Wars: Republic

Year: 2007

Number: None*

Assortment: Comic Packs

Retail: $9.99

Assortment Number: 87559/87557

UPC Number: 6 53569 27091 1

Weapons and Accessories:
2 DC-15 Blaster Rifles
2 Removable Helmets
Soft Goods Kama
Soft Goods Poncho
Shoulder Pauldron
Survival Backpack
Star Wars: Republic #79 reprint comic book
Comments: The Clone Wars are over. The Galactic Republic army is defeated, and Order 66 has eliminated most of the Jedi or forced them into hiding. Wild rumors are spreading that the Jedi tried to overthrow the government and cannot be trusted. On the planet Toola in the Outer Rim, Commander Keller is hunting down two fugitive Jedi who survived Order 66. With the help of a Galactic Marine, Keller tracks them through the deep snow as they head toward Ithaqua Station.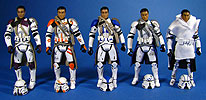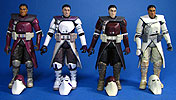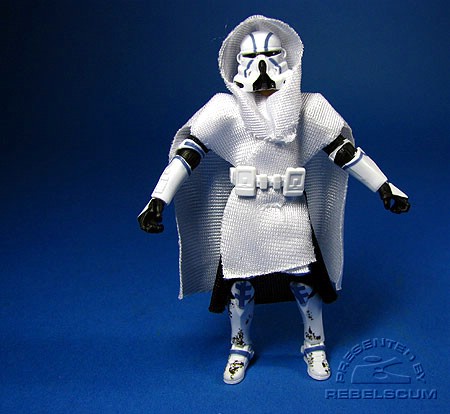 Roll over Commander Keller to see him undress! ;)
Points of Interest:
Commander Keller is a partial repaint of 2007's TAC Airborne Trooper. This time around, the figure has been modified to include soft goods kama and poncho, and repainted to match the comic.
Galactic Marine is a repaint of 2007's TAC Galactic Marine. This time around, the armor has been repainted to match the comic.
Photography by Dan Curto
*Although this set is not numbered on the packaging, the indicia inside the comic identifies this as Comic Pack #15.
For more information on the Dark Horse Comics Republic comic book series, check out our cover gallery.

Back To Comic Packs