R2-D2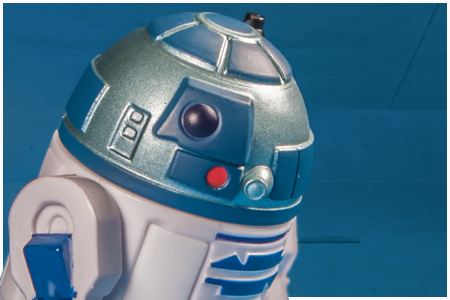 2013 The Clone Wars
R2-D2 helps the natives of the planet Aleen. When C-3PO falls through a hole in the ground, R2-D2 goes in after him. The two Droids discover an underground world and come to the aid of the beings who dwell there, saving them from a deadly threat.
The first assortment of The Clone Wars was to serve as its last. Hasbro decided to cancel the line and as such, this wave, which included new figures based on
Anakin Skywalker
,
Obi-Wan Kenobi
,
Captain Rex
,
R2-D2
, the
501st Legion Clone Trooper
and
Battle Droid
. In addition, this wave also repacked the armored version of
Savage Opress
and
Clone Commander Cody
as well as the first (and last) single-carded
Darth Maul
.
The Clone Wars 2013 series 1 began shipping in Europe in January and in Canada in February. Hasbro has no plans on releasing these figures in the U.S. For all future Clone Wars figures, collectors will be looking for realistic looking figures in the other action figure assortments.

Product Information
Manufacturer:
Hasbro
Year:
2013
Original Retail:
$10.99
Assortment Number:
A0841/37290
UPC Number:
6 53569 84217 0
What's In The Box?
About This Figure:
For the first time since 2008, the R2-D2 figure has been altered. This time out, Hasbro did away with the original body and used the build-a-droid style body we first saw with R7-D4 (CW64). To make this new version even better, they took down the dark blue tone of the diminutive hero's head for a more screen accurate silvery-blue.
Previous Versions
Text & Photography by D. Martin Myatt
comments powered by

Disqus