Darth Maul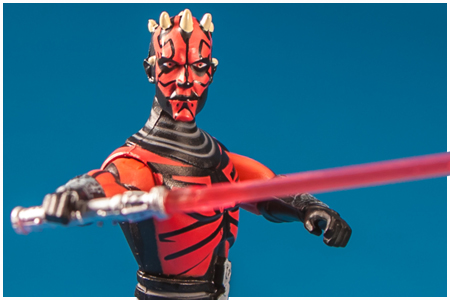 2013 The Clone Wars
Darth Maul is healed by Mother Talzin. The Nightsister magically creates cybernetic legs for Maul and helps him recover his memories. Whole again in mind and body, Maul goes after Obi-Wan Kenobi, the Jedi who defeated him in battle.
The first assortment of The Clone Wars was to serve as its last. Hasbro decided to cancel the line and as such, this wave, which included new figures based on
Anakin Skywalker
,
Obi-Wan Kenobi
,
Captain Rex
,
R2-D2
, the
501st Legion Clone Trooper
and
Battle Droid
. In addition, this wave also repacked the armored version of
Savage Opress
and
Clone Commander Cody
as well as the first (and last) single-carded
Darth Maul
.
The Clone Wars 2013 series 1 began shipping in Europe in January and in Canada in February. Hasbro has no plans on releasing these figures in the U.S. For all future Clone Wars figures, collectors will be looking for realistic looking figures in the other action figure assortments.

Product Information
Manufacturer:
Hasbro
Year:
2013
Original Retail:
$10.99
Assortment Number:
A1624/37290
UPC Number:
6 53569 84219 4
What's In The Box?
Darth Maul Figure
Male Lightsaber
Female Lightsaber
Force Spinner
About This Figure:
This figure is repack of the version listed below. For this release, Hasbro has added a production number stamp to the back of the right leg.
Previous Versions
Text & Photography by D. Martin Myatt
comments powered by

Disqus