501st Legion Clone Trooper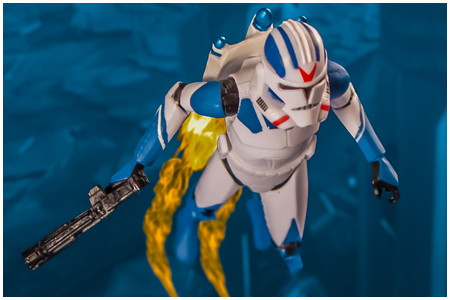 2013 The Clone Wars
A 501st Clone Trooper uses a jet backpack as part of an aerial attack. The troopers in the elite 501st Legion, who are led by Captain Rex and server under the command of Anakin Skywalker, achieve many victories during the Clone Wars.
The first assortment of The Clone Wars was to serve as its last. Hasbro decided to cancel the line and as such, this wave, which included new figures based on
Anakin Skywalker
,
Obi-Wan Kenobi
,
Captain Rex
,
R2-D2
, the
501st Legion Clone Trooper
and
Battle Droid
. In addition, this wave also repacked the armored version of
Savage Opress
and
Clone Commander Cody
as well as the first (and last) single-carded
Darth Maul
.
The Clone Wars 2013 series 1 began shipping in Europe in January and in Canada in February. Hasbro has no plans on releasing these figures in the U.S. For all future Clone Wars figures, collectors will be looking for realistic looking figures in the other action figure assortments.

Product Information
Manufacturer:
Hasbro
Year:
2013
Original Retail:
$10.99
Assortment Number:
A0835/37290
UPC Number:
6 53569 84218 7
What's In The Box?
501st Legion Clone Figure
Blaster
Jetpack
About This Figure:
This figure features all the same points of articulation as the Clone Trooper released last year. This time out, it has a highly detailed blaster and a Jedi/Jango Fett style jetpack.
Previous Versions:
Text & Photography by D. Martin Myatt
comments powered by

Disqus