R2-D2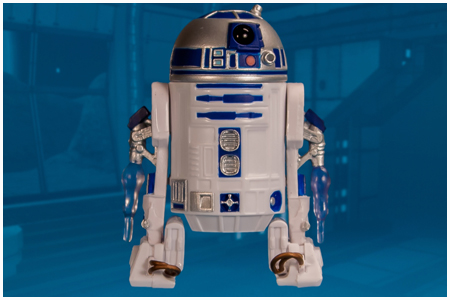 2013 The Black Series
This Brave, loyal droid accompanies Anakin Skywalker on missions that take them from Naboo to Geonosis.
The Black Series #09 R2-D2 action figure may not have all the bells and whistles, but it has everything it needs to be a bona fide flying R2-D2. At the point of its release, it is the most screen accurate flying R2 Hasbro has released following versions with unused conceptual rockets, mandatory exposed third legs, or hideous yellow paint applications. This version is a repaint of the 2007 30th Anniversary Collection 30-04 R2-D2.
The second wave of figures in The Black Series basic collection also included the completely new, fully articulated #10 Pablo-Jill, the definitive new #11 Luminara Unduli, the repainted TVC buck #12 41st Elite Corps Clone Trooper, the kit bash #13 Stormtrooper, the completely new #14 Mara Jade figures. This assortment was originally intended to be a part of Hasbro's cancelled 2013 Droid Factory Legacy Collection and most of them were first show in public at Hasbro's 2012 San Diego Comic-Con pavilion and the rest were revealed in the exact same location one year later.

Product Information
Manufacturer:
Hasbro
Year:
2013
Original Retail:
$9.99
Assortment Number:
A5160/A5077
UPC Number:
6 53569 88408 8
What's In The Box?
R2-D2 Action Figure
2x Flying Jets
Previous Versions
Text & Photography by D. Martin Myatt
Page Built by Adam Lamping