STORMTROOPER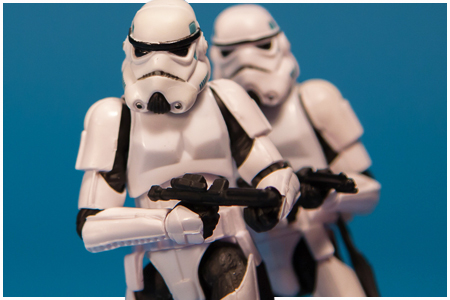 The Empire Strikes Back
The VC41 Stormtrooper had more growing pains than most of the other figures in The Vintage Collection. The earlier versions had helmets that were not painted correctly and the paint details on the midsection were missing. Hasbro quickly resolved these issues and all later releases, including the Revenge Of The Jedi/Return Of The Jedi recarding, had a corrected helmet and midsection deco.
Both versions of this figure is a kit bash using most of the 2007 30th Anniversary Collection's
VC14 Sandtrooper
.
The fifth wave of action figures in The Vintage Collection was sort of a mixed bag. The assortment featured the VC20 Yoda, which was originally slated for the third wave, along with six kit bashed or repainted figures including the repainted VC38 Clone Trooper (212th Battalion), the kit bashed VC39 Luke Skywalker (Death Star Escape), the repainted VC40 R5-D4, the kit bashed VC42 Han Solo (Yavin Ceremony), and the repacked VC43 Commander Gree. This assortment didn't ship to Canada, but the Yoda, Luke, and Stormtrooper were ever offered North of the 49th in future waves.

Product Information
Manufacturer:
Hasbro
Year:
2011
Original Retail:
$9.99
Assortment Number:
30241/97568
Placement Number:
VC41
UPC Number:
6 53569 62162 1
What's In The Box?
Stormtrooper Figure
BlasTech DLT-19 Rifle
Helmet
BlasTech E-11 Blaster
Related Figures
Text & Photography by D. Martin Myatt
Additional Photography by Suzan Lund
US Card Variations Catalogued by Vince Zannelli
Canadian Card Variations Catalogued by Scott McDonald
Page Built by Adam Lamping and Rich Alot